Why to choose WinBuffer accumulator tank
WinBuffer Energy Accumulator – for optimising heating water-circulating heating systems, the heat generated by the heating device is stored in energy accumulators to be used to heat the building and domestic water. The WinBuffer energy accumulator is a Scandinavian product, manufactured by heating experts at the Northern Scandinavian manufacturing plant.
Our product range includes models to be used with different heating methods.
The WinBuffer energy accumulator enables different heating systems to be used in parallel. The accumulator can be connected to an underfloor heating or radiator network. WinBuffer accumulators are available for single-family houses and large properties.
Our range of models includes accumulators with 501L, 1000L, 2000L, 3000L, 4000L and 5000L capacities.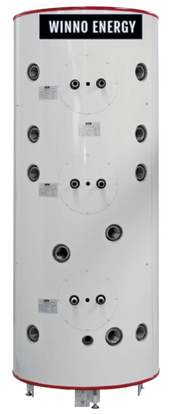 Thanks to the fixed steel frame on the bottom of the accumulator, the WinBuffer accumulator is easy to transport, lug around and install, regardless of model or size.
The accumulator has detachable insulation, which makes it easy to carry into confined spaces without needing to remove door frames. For example, the 1,000L accumulator has a diameter of 850 mm without insulation.
The insulation segments are attached to each other with quick latches, which makes it easy to remove or install them. The accumulator's connections do not reside inside the insulation; to facilitate pipe installations, the connections extend to the insulation surface level.
Adjustment legs (adjustment tolerance 0-60 mm) allow the accumulator to be easily set to stand vertically even on an uneven surface.
First-grade welding and consistent quality
Robot welding ensures first-grade welding and consistent quality. All of the tanks are painted with primer and pressure tested using water. The insulation material is pressure cast polyurethane, which has very good thermal insulation capacity and minimal thermal loss. WinTank vertical cylindrical accumulator provides the best thermal option in terms of shape. Ease of use has also been taken into consideration in the design of connections. The drain connection located at the front of the accumulator makes it easy to drain the accumulator.
Sufficient fresh water using an energy accumulator is an ecological and economic way to produce a comfortable, even room temperature and sufficient hot water. The accumulator stores and distributes the heat produced by heating systems, which is then used to heat the property and domestic hot water.
In WinBuffer accumulators, domestic water is heated in a copper coil, which offers a quick turnover of water.
The coil distributes water energy-efficiently, ensuring freshness. Coils are ordered for accumulators separately
Why choose WinBuffer Accumulator tank for your renewable energy projects:
Manufactured in Nordics
Follows PED directive and UK pressure vessel legislation
Robot welding ensures first-grade welding and quality
Detachable insulation
Adjustment legs
Durable and thermally efficient
Pressure class up to 10 bar when needed
Works well with Biomass, Solar, Pellet and GSHP applications
Winbuffer EV and EVH models, technical specs
WinBuffer EV Thermal Storage Tank
EV thermal storage tanks are suitable for storing energy capacity from different heat sources in wood, bio, heat pump and solar heating systems. EV thermal storage tanks have two doors with flanges for installing coils and connectors for the electric heating elements. The top door of the basic version has 35L/min water coil installed. A pre-heating coil or solar heating coil can be installed in the lower compartment, for example. The flow control mechanism for network and loading connections are inside the tank.
WinBuffer EVH Superheating Thermal Storage Tank
Designed especially for heat pump and solar heating systems, the WinBuffer EVH superheating thermal storage tank has three compartments with flanges for installing coils. The standard configuration is a water heating coil in the top compartment and doors on the other two. As an example, a pre-heating coil can be installed in the middle compartment and a thermal solar coil or heat exchanger coil in the bottom compartment. WinBuffer EVH storage tanks are equipped with separator walls with flow openings. The section above the separator wall is loaded with, for example, the highest temperature produced by the ground source heat pump. This is referred to as superheating, which ensures sufficient water temperature and quantities for use. Due to the separator wall, the superheated hottest water remains in the top section of the storage tank and the coolest water, which has released its energy for heating, returns back to the bottom section to be re-heated.
The system is also able to utilise the greatest amount of energy from the solar thermal coil.
Special order models
Thermal storage tanks can be made with larger, Ø 300 mm doors for installing larger coils. The height of the storage tanks can also be lowered within certain limits. In addition, the size and location of connections can be altered. We also supply thermal storage tanks for a 10 bar maximum operating pressure, upon special order.